TCD IN THE NEWS
---
Dickey's Barbecue Pit Coming To Scottsbluff/Gering
August 26, 2016 | Kevin Mooney
The nation's largest barbecue chain restaurant is coming to the Scottsbluff/Gering area.
Dickey's Barbecue Pit, which already has 560 locations and 43 states, plans to locate a store in Gering within a year's time.
Company spokesperson Michelle George says the restaurant provides a variety of hickory smoked meats served as a sandwich or by itself as part of a meal. George says they offer their signature brisket, pulled pork , St. Louis style ribs  two different types of sausages, chicken  and more. The meat can be served alone with sides and bread, as a sandwich and even as a taco.
George says Dickey's offers a fast casual concept so you get your meal in just a few minutes while you watch it being prepared.
Guy New, a fifth generation Texan who already has a restaurant in the Dallas area, will be the owner/operator of the Gering restaurant, one of two new stores he is opening.
Twin Cities Development Community Development Director Sean Overeynder says he has been talking to the company since December and is working on finalizing a location and using L.B.  840 funds to assist with developing the restaurant.
Download the entry form here: http://kneb.com/regional-news/dickeys-barbecue-pit-coming-to-scottsbluffgering/
Tourism Innovators Challenge
If you have a business idea that could bring in tourism, we want to hear from you!
Download the entry form here: 20150707TourismInnovatorsChallenge8.5×11
July 22, 2015 | Travis Sell, Star Herald
Calling all entrepreneurs, idea men and aspiring small business owners. If you have ever had a great business idea but just didn't know where to start or who to contact, the Tourism Innovators Challenge on Sept. 10 may be exactly what you need.
Created by Twin Cities Development, Gering Convention and Visitors Bureau, the United Chamber of Commerce and the Scotts Bluff County Area Visitors Bureau, the challenge is designed to spark business development in the community, specifically to help spark tourism.
Rottinghaus also said the challenge was designed to foster new ideas related to bringing more tourism into the area, while promoting and showcasing existing attractions as well as new ones.
Karla Niedan-Streeks, executive director of the Gering Convention and Visitors Bureau, also added, "We are extremely lucky and it is beneficial to our area to have a lot of attractions and events, but your tourism industry will only continue to grow and be sustainable if you continue to look for new ideas and opportunities."
The challenge winner will receive up to $1,000 to help get the business idea off the ground. The cash prize involved may not be the most rewarding aspect of the contest.
"The message we are emphasizing is that you don't need to win to receive the benefits," Rottinghaus said. "We are really trying to connect people with good ideas with the vehicles and resources to help them get moving."
"We felt it was really important to have the networking and resources set up so people can realize what we have available," Karen Anderson, executive director of the Scottsbluff/Gering United Chamber of Commerce said. "The networking is probably just as valuable (as winning). Winning doesn't mean there is just one winner. They are going to be introduced to the business community, which we think is important."
Each contestant's 10-minute pitch will be judged by a panel consisting of local business owners and community leaders, among others, and will be based on a set of guidelines. Rottinghaus said ideas should be "something that can be turned into a sustainable, viable business idea."
Although the Tourism Innovators Challenge is new to the community, tourism and business developers in the area are constantly talking about new ideas and ways to help improve economic development.
"In tourism, we have a lot of marketing meetings and strategic discussions where a lot of new ideas have come to the forefront, but this event is taking it to the next level," Niedan-Streeks said. "We are hoping to provide these entrepreneurs and idea people with all of the tools that are available in our community."
When it comes sustaining and growing tourism, Scotts Bluff County Area Visitors Bureau Tourism Director Brenda Leisy would like to see the area become more than just a one-day stop.
"I use Fort Robinson as an example because there is so much to do there, you can't do it in a weekend," Leisy said. "And that's what I would like to see more of here, whether it's bicycling, horseback riding or Jeep rides. Hopefully, we can have some of those ideas come forward with this challenge."
Interested innovators need to submit an entry form found at www.tcdne.org or on Twin Cities Development's Facebook page. There will be an Idea Kickoff meeting from 5:30-7 p.m. on July 28 at The Legacy of the Plains Museum in Gering to give contestants a chance to meet and network with resources.
For more information, contact Rottinghaus at Twin Cities Development at 308-632-2833 or at twincitiesdata@tcdne.org.
Download the entry form here: 20150707TourismInnovatorsChallenge8.5×11
SWBC looking to double size of Scottsbluff operation
Posted April 27, 2015 by Ryan Murphy | KNEB
One of Scottsbluff's newest businesses  is already looking to expand. Currently, San Antonio based SWBC has 180 employees at their Scottsbluff Office. Greg Hermanson, the VP of Human Resources,  says their first couple of orientation classes started with 60 or so employees, but operations have ramped up very quickly. He says this is the fourth job fair SWBC is hosting in the past six months, and they have many jobs to fill ranging from entry-level to management positions. Hermanson says that within the next four months, he hopes the Scottsbluff office grows by an additional 210 positions. He encourages everybody looking to apply to fill out an online application before the job fair, which is slated for May 5th at the SWBC in Scottsbluff.
TCD helps Valley cope with job growth, recruitment and housing challenges
Posted March 7, 2015 by Steve Frederick, Star Herald
At one time, economic development focused on blockbuster deals, attracting large, well paying employers that offered good benefits, opportunities for future growth and didn't degrade local environment or threaten the quality of life.
SWBC getting closer to filling all positions for Scottsbluff facility
Twin Cities Development says that this week proved to be another successful job fair for San Antonio based SWBC. Darla Heggem tells KNEB News that SWBC extended 45 offers during Monday night's job fair.  She says the company is getting close to its goal to fill 144 positions at their new Scottsbluff facility.
Pierce briefs council on Brownfield's grant status
Posted 10/28/14 KNEB News
The Gering city council was briefed Monday night on the next stages following receipt of a Brownfield cleanup grant from the state of Nebraska.
Former Packerland Facility Demolished
Posted: 3/31/14 KNEB News
Demolition has begun on the former Swift and Packerland meat processing facility on the Scottsbluff/Gering Highway at the intersection of Country Club Road.  Twin Cities Development Executive Director Rawnda Pierce says the building had been identified as a structure that needed to be demolished.
City commits $120k toward downtown revitalization grant match
Posted: 3/16/14   By BRAD STAMAN EDITOR Star Herald
The Gering Public Works Committee agreed Monday night to recommend the city spend $120,000 in matching funds for the next phase of the downtown revitalization grant. The funds will go toward a new parking lot surface behind the Union Bar which will cost around $90,000 and possibly toward three crosswalks and toward re-stripping to take 10th Street from four lanes to three.
Gering council approves L.B. 840 loan to cash flow Magnolia North Dakota project
Posted:  2/10/14 KNEB News
The Gering City Council Monday evening approved a $350,000 LB-840 loan request from Magnolia Homes to help them with a $4.2 million dollar apartment project in North Dakota.  Twin Cities Development Executive Director Rawnda Pierce says the company has plenty of work lined up, but just needed some help with operating capital to carry them through until the project is completed and more payments come in.
Hotel investment group waiting for final location recommendation
Posted: 1/25/14 KNEB News
Twin Cities Development Director Rawnda Pierce says an investment group looking at investing in another hotel in Gering is waiting for a definitive location recommendation from the Gering downtown revitalization planners.
TCD Executive Director Discusses Brownfield's Assessment Grant
Posted: 1/23/14 KNEB News
Twin Cities Development Executive Director Rawnda Pierce joins Kevin Mooney on KNEB's News Extra program Thursday morning. Discussing the EPA Brownfield's Assessment Grant, Gering downtown revitalization, and upcoming meetings of interest. Including a Call To Action at the WNCC Harms Center tonight from 6 to 9 p.m., the NPPD Open House at the Gering Civic Center today from 2 to 8 p.m.
SBPS, WNCC, TCD to apply for $3-6M CareerConnect program/grant opportunity
Posted: 1/14/14 12:00 am By JOE DUTTON Staff Reporter-Star Herald
Scottsbluff Public Schools is making plans to apply for a large grant that would instill a new Youth CareerConnect program at Scottsbluff High School. During the Scottsbluff Board of Education meeting on Monday, board members listened to a variety of school and business representatives throughout the community to help gain support for a $3 million to $6 million grant that would create a Youth CareerConnect program for SHS students.
RockStep Capital details plans after purchase of Monument Mall
Posted: 12/26/13 KNEB News
The new principal owner of the Monument Mall says the local area is "dramatically underserved" in national retailers and within six months several new tenants will be in the mall.  Andy Weiner, President of Houston, Texas based RockStep Capital told KNEB News the company finalized the purchase December 19th from Perkins Properties out of Omaha.
TCD Meeting Highlights 2013 Achievements, Looks to Future
Posted: 11/22/13 12:00 am By BRANDON NELSON Staff Reporter – Star Herald
Present and future endeavors all received a fair share of the spotlight at Twin Cities Development's annual membership meeting Thursday at the Harms Advanced Technology Center in Scottsbluff.  The nonprofit association is celebrating another successful year of economic development marked by the completion and initiation of several economic and community development projects.
Students Tour Local Business and Industry
Posted: 11/21/13 12:00 am | Updated: 8:53 am, Thu Nov 21, 2013. By BRANDON NELSON Staff Reporter – Star Herald
Area high school students recently explored the possibilities for jobs in the Panhandle.  Nearly 250 students from 11 western Nebraska schools boarded buses to check out local businesses and learn more about prospective career paths during the Business and Industry Tours Wednesday.
TCD Hosts Workshop to Highlight State Intern Program
Posted: 11/24/13 | Updated: 4:13 pm, Wed Nov 6, 2013. By BRANDON NELSON Staff Reporter – Star Herald
Panhandle businesses, students and education leaders are being invited to learn more about a state program working to track down paid internships for college students while backing the businesses providing them. Sessions highlighting InternNE are scheduled in towns throughout western Nebraska from Oct. 28 through Oct. 30.  Program Coordinator Allison Hatch said the goal of the workshops is to showcase how connecting college students with Nebraska employers through the program is a win-win situation for all involved.
California jerky plant relocation to Scottsbluff going well

Posted: 11/11/13 By BRANDON NELSON Staff Reporter – Star Herald
After about six months in operation, a Scottsbluff jerky processing plant is in full swing. KYS Foods, a 32,000-square-foot facility located southeast of Western Nebraska Regional Airport in Scottsbluff, cut the red ribbon in September and went into full production in mid-November. Since then, the company has been cranking out a range of Asian-style jerky and sausage using Nebraska-grown beef and pork.
Local Business & Industry Tour Claims Regional Award
Posted: 5/26/13 By BRANDON NELSON Staff Reporter – Star Herald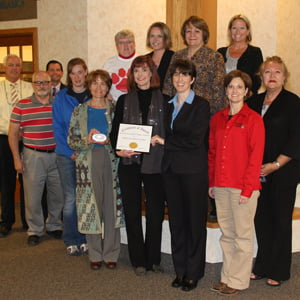 A local business education event has received regional acclaim and recognition.  The bi-annual Business and Industry Tour, coordinated by the Scottsbluff/Gering United Chamber of Commerce Business Education Committee, was given the Event of the Year Award during a the recent Mid-America Chamber Executives Conference in Sioux Falls, S.D.
Boardings Up at Regional Airport
KNEB May 15, 2013
Boardings on Great Lakes Aviation flights from Scottsbluff to Denver are up significantly this year. West Nebraska Regional Airport Manager Darwin Skelton announced during Wednesday's Scotts Bluff County Airport Authority meeting that through April, 3,148 people have flown read more…
Nebraska Top 10 in Business Facilities Best Business Climate 2012 Ranking
A move into the top 10 Business Facilities Best Business
Climate 
ranking puts Nebraska in contention for expanding or relocating businesses. 
 The ranking evaluates an amalgamation of the publications key rankings results (including education climate, workforce training/availability, cost of labor, infrastructure, utility costs, credit rating and business tax climate).
One reason for Nebraska's bump to the top ten is the The Business Innovation Act. The Act created the Nebraska Innovation Fund("NIF"). The NIF consists of three core programs: (1) Pre-seed Fund (prototyping), (2) Seed Fund (commercialization stage), (3) Value-Added Agriculture. 
Business Facilities gives extra credit to states that have enacted and executed business-friendly policies, including new incentives, an improved business tax climate, workforce training and a relatively low cost of labor. The publication also factors in the recent success of economic development initiatives geared to bring in new industry segments and facilities.
–
Open Invite to Magpul
Posted: 3/29/13 The Gering Courier 
We would like to extend an invite to Magpul Industries. Colorado may not want you but we in Gering do. If you haven't heard the ammunition company, Magpul Industries, based outside of Denver has said they will be moving because of the gun control laws passed by the Colorado legistature. read more
By BRANDON NELSON | Posted: Tuesday, January 8, 2013
Star-Herald Staff Reporter
Last year turned out to be a good one for Twin Cities Development. The nonprofit, economic development organization spent much of the year working with prospective and existing companies to drum up new investments and local job opportunities in the Panhandle. Rawnda Pierce, executive director, said staff members wrote grants last year to help identify funding for several local projects as well as assisted in establishing some new businesses while revamping existing ones.  read more
Senators told state needs to invest in early childhood development
Posted:  9/18/12 KNEB News
Members of the Nebraska Legislature's Education Committee were told last evening that Nebraska needs to invest in early childhood development because too many of the state's children are at risk before they enter the public school system.  Darla Heggem, Employee Recruitment Manager for Twin Cities Development, told the senators during an interim legislative hearing in Gering that 2010 census data shows 39% of the state's children do not have the necessary skills prior to entering kindergarten. Heggem says the number increases to 59% for Scotts Bluff County.
---
BACK